Types Of Assistance Dogs
Below are other types of assistance dogs.
---
Most Common Reasons Listed For Emotional Support Dog Needs.
Stress Related, Adjustment Disorders, Generalized anxiety disorder, Social anxiety disorder, Phobias, Panic disorder, Post-traumatic stress disorder, Separation anxiety, Dissociative Disorders, Factitious Disorders. Eating Disorders, Impulse-Control Disorders, Mental Disorders, Neurocognitive Disorders, Mood Disorders, Neurodevelopmental Disorders, Personality Disorders, Psychotic Disorders, Sexual and Gender Identity Disorders, Sleep Disorders,  Somatoform Disorders, Substance Related Disorders, Suicidal Thoughts.
Most Common Reasons Listed For Service Dog Needs.
Arthritis, Ataxia (Poor Balance), Autism, Blindness (or Poor Vision), Cancer, Cardio/ Pulmonary Disease, Cerebral Palsy, Deafness Or Hearing Impared, Diabetes, Medical Alert Needs, Multiple Sclerosis (MS),Pain Related, PTSD, Physical Mobility Issues, Psychiatric Disabilities, Seizure Disorders, Severe Allergy Alert, Spina Bifida, Spinal Cord/Head Trauma, Stroke,
---
Not Registered Yet?
---
---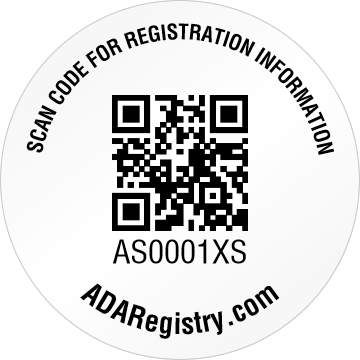 Don't have a QR Tag yet? Get One Now!
Emotional Support
Therapy Dogs
Companion Dogs
Service Dog: Medical Alert Dog
Service Dog: Search and Rescue Dog
Companion Dogs
Service Dog: Law Enforcement / Police Dogs
Service Dog: Military Trained Dogs
Service Dog: Hearing Dogs
Service Dog: Seizure Alert / Response Dogs
Service Dog: Physical Assistance Dog
Service Dog: Diabetic Alert Dogs
Service Dog: Fire / Arson Dogs
Service Dog: Brace/Mobility Support Dog
Personal Protection Dogs (Guard Dogs)
Service Dog: Severe Allergy Alert Dogs
Service Dog: Autism Assistance Dog
Service Dog: Psychiatric Service Dog
Service Dog: Wheelchair Assistance Dogs
Service Dog: Medical Assistance Dogs
Service Dog: Visual Assistance Dogs
Service Dog: PTSD MedicalDogs
Detection Dogs
Most Popular Reasons To Register Your Dog