THERAPY ANIMALS VS. SERVICE ANIMALS: WHAT'S THE DIFFERENCE?
May 5, 2021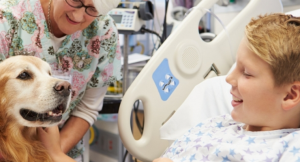 The Pasadena Humane Society is offering a free virtual webinar on Wednesday, April 28, to guide people about the difference between therapy animals and service animals.
Kim Kane, a volunteer at Pet Partners, will lead the discussion, showing how those two types of animals differ, as well as teaching the benefits of therapy animals.
Canine Journal says service animals, or service dogs, are trained to help people with disabilities, such as visual impairments, mental illnesses, seizure disorders, diabetes, and other ailments.
A therapy dog, on the other hand, is trained to provide comfort and affection to people in hospice, disaster areas, retirement homes, hospitals, nursing homes, schools, and other similar facilities.
Both types of animals are trained in different skills. A service dog is specifically trained to perform tasks related to the disabled person's specific condition. A diabetic person, for example, may have a dog who can detect when the owner's blood sugar level is too low or high.
Training can be done by the owner, a friend, family member, or professional trainer.
Therapy dogs are trained to help provide comfort and affection. Canine Journal says spending time with a therapy dog has been shown to lower blood pressure and heart rate, reduce anxiety, and increase endorphins and oxytocin.
Kim Kane is a licensed team evaluator with Pet Partners and can evaluate prospective pet visitation therapy animals such as dogs, cats, birds, horses, bunnies, and cavies. She is also currently a volunteer with Orange County Animal Care and is active in its Educational Outreach program, leading shelter tours for students and Scouting groups, and conducting off-site informational and educational presentations.
For more information, call (626) 792-7151.
The webinar will be from 12 to 1 p.m.
Check Out Our Store