Family raising money to pay for diabetic alert dogs for children
May 5, 2021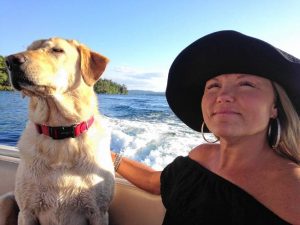 A yellow lab diabetic alert dog named Mylo helped alert Mandy Grier when her blood sugar started to fall to dangerous levels, often before she even knew something was going on.
Grier's Type 1 diabetes, which was diagnosed when she was 7 years old, was severe enough that she couldn't be left alone much. She always had someone checking in on her or calling an ambulance to take her to the emergency room when her blood sugar became perilously low. Mylo changed that, giving freedom, independence and loving company until Grier died in 2019 at the age of 42.
Grier's memory lives on through her family, who want to honor her by helping others struggling with diabetes to afford a medical alert dog like Mylo. They started M&M Angel Service Dogs, named after Mandy and Mylo, to raise money so a child can get a diabetic alert dog. They use proceeds from their business they created last year, M&M Island Cruises, which takes people out on pontoon boat rides on Lake Winnipesaukee. Grier, who was raised in Meredith and lived in Center Harbor, enjoyed spending her summers on the lake with her family and Mylo.
Raising their voices to raise the minimum wage
Grier's father, Kevin Morris, and her sisters, Anne Grier and Kelly McAllister, hope to pay for one diabetic alert dog each year for a child.
Typically, the dogs cost between $15,000 and $25,000. Grier's family is working with a local dog trainer, Kaarla Weston, of Gilford's Golden Guardians, and has already identified the first recipient, who will receive her service animal on May 29 at the Town Docks in Meredith.
Their double-decker pontoon boat comfortably seats up to 18 people, and is equipped with a small kitchen, bathroom, refrigerators, and eight-speaker sound systems.
Grier's father came up with the idea of using boat tours as a way to raise money for diabetic alert dogs. He was ready to retire, but knew he would have to stay busy and he wanted to do something that would benefit children with diabetes.
Through a GoFundMe drive started by Mandy's sister Anne, they have already raised more than $20,000 to pay for the training for the first dog.
Weston, who trains medical alert dogs, autism service animals and emotional support animals, said training typically takes 10 months to complete. At eight weeks, the dogs go to live with a handler and then they come to Golden Guardians every two weeks for training and testing.
Weston has trained 43 service animals using positive reinforcement techniques.
"We want the best from them so we need to treat them well, and we need to be respectful that they have a purpose and that they have a job to do," Weston said.
Diabetic alert dogs are trained to alert a parent if a child needs assistance, or go to the nearest person for help, or get the medical bag with the insulin the child needs.
Mandy's sister, Kelly McAllister, said Mylo was like a family member and a best friend to Grier.
"[Mylo] was so many things to her," McAllister said. "It changed her life dramatically."
Weston said she is proud to help children with diabetes succeed with their service animals.
"We are changing lives and we're saving lives," Weston said. "We are enhancing kids' independence, where, not only is the dog becoming more confident throughout the training, the kids are becoming more confident throughout the training."
Providing the same gift that Mylo gave to Grier felt like the right thing for her family.
"I guess everybody grieves differently, and your efforts of grieving I think is a form of comfort to find some sort of silver lining or some way to celebrate somebody's life as opposed to only thinking about the loss," McAllister said. "The best we really saw Mandy, because she was so young when she was diagnosed, was after Mylo came into her life."
She's still missed dearly, but through this effort, her memory will live on.
"She was my best friend," McAllister said. "I guess you just kind of have this overwhelming feeling like how can you turn something so devastating into something positive."
Check Out Our Store