Christmas Excitement
She brought me her gift from under the Christmas tree then acted surprised when I said she could open it.
Miss Sasha Noble
Sasha is my emotional support dog who supports me daily due to my disabilities.  She is a vital part of my ongoing treatment.
Lady Luna the ESA
Lady Luna was originally raised and trained to be a psychatric service dog. She however retired several years later due to the stress of working every day. She has now gone through a career change and become an emotional support animal. She is very sensitive and exceptionally in tune with her masters emotions. She knows exactly when "cuddle time" is needed and never fails to appear. She also follows her person around closly keeping a watchful eye out for when she is needed offering support from near by. She loves her family and is very protective, quick to go in guard mode anytime she feels her people are theatened. She is truly a special dog.
Giant Schnauzer Zack
This is 8 year old Zack. He is approximately one hundred and 15 lbs . Zack belongs to my husband who has Lewy Body Dementia. 
Yummies in the kitchen
Guess who loves peanut butter? Tavarisch. Just a happy Lhasa Also, boy who loves his walks and occasional peanut butter treats.
my very outgoing baby boy
He never leaves my side, especially when I'm sick. He senses anyone is sick, he will try licking you and being up near you.
my very outgoing baby boy
He never leaves my side, especially when I'm sick. He senses anyone is sick, he will try licking you and being up near you.
Happy Valentine's Day
My girl immediately after grooming for Valentines Day.
She is always a  happy dog, for a 16 year old Shih Tzu.
She does not bark but will show you her displeasure with you
Restaurant owner apologizes, won't face charge for kicking out woman with service dog
A riverfront bar and restaurant owner who was scheduled to go to trial this week will not face a charge of denying access to a disabled person.
Mike Walker, owner of Surfside Club, wrote an apology letter to Valerie Powell. He was shown on video kicking her and her dog out in May. Surfside Club is located north of Omaha along Missouri River.
Powell shared cell phone video from that day with 3 News Now Investigators as she pressed the Douglas County Sheriff's Office and Omaha City Attorney's Office to treat the matter seriously. You can see the full video here.
Walker faced a maximum penalty of three months imprisonment and a $500 fine for the misdemeanor charge of denying access. He faced another misdemeanor of failure to appear from the initial hearing on the matter. He said he thought his court appearance was the next day.
Walker declined further comment on the outcome and deferred to his attorney.
"Going to trial would have created unnecessary strain on all involved, regardless of the outcome," said Robert Williams, Walker's attorney in a statement. "At the end of the day, the result is just and fair to the parties. I ask that people resist the urge to make knee-jerk reactions about either Mr. Walker or Ms. Powell. It is incumbent on local business owners to be aware of the parameters of the ADA and educate their employees on the same. I further encourage people with service animals to be willing to help educate others that may be ignorant to the law."
The city prosecutor's office confirmed they will ask the charges be dropped. Interim City Prosecutor Kevin Slimp said charges on this issue are rare. He said it is the first time he had seen one.
In addition to dogs, miniature horses can also serve as a service animal, per the Americans with Disabilities Act. The owner of Flirty, a service mini horse, took notice after 3 News Now Investigators first ran this story in July.
She and the owners of service dogs visited Surfside Club, curious if the business had improved its process. Though she said they were originally denied access for not providing documentation, they were eventually served. She said she overheard snide remarks from a manager, but it appeared Surfside Club had learned its lesson at that time.
Learn more: Bellevue woman copes with disability using a mini-horse as service animal
Powell said she forgives Walker and calls the outcome "positive." She said the letter should be informative to other business owners who do not understand what the ADA requires.
"I don't want to see anyone go to jail," she told 3 News Now. "I want (Walker) to be sorry and to learn, and this will help everyone with service animals."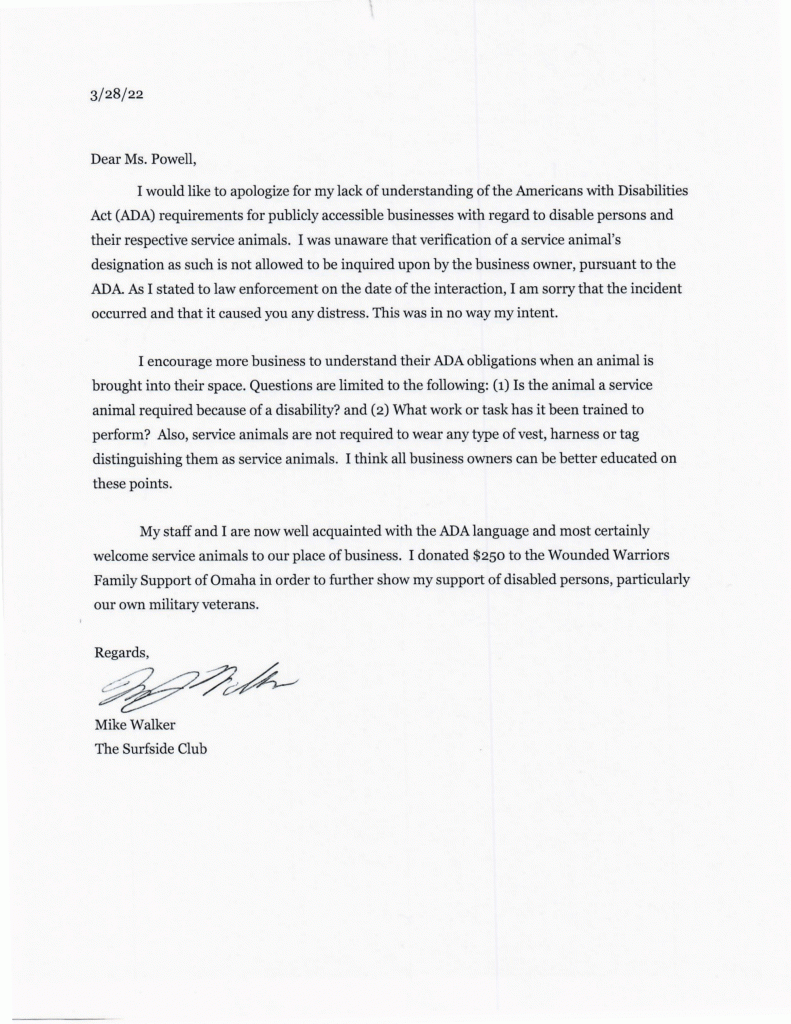 Tundra the white GSD.
Actually taken in front of a white Tundra truck. Lol he likes going bye bye and getting a pupachino at Starbucks. He also loves to go see the cows.
Naylah Jones Trained work dog
Naylah is a caring dog, loves to go on long walks with owners and loves being around other animals. She has no aggression toward people or other animals.
Unconditional Love
My life has never been the same since Ralph came into my life.  I thank him every day for picking me to rescue. 💗
Storm's Happy Place
SSSSSSSSSSSSSSSSSSSSSSSSSSSSSTTTTTTTTTTTTTTTTTTTTTTTTTTTOOOOOOOOOOOOOOOOOOOOOORRRRRRRRRRRRRRRRRRRRRRRMMMMMMMMMMMMMMMMMM
Dyna emotional support dog
Dyna is an emotional support dog. She helps calm my known and treated anxiety and helps avoid panic attacks or anxiety attacks.
My beautiful boy Kobi !
My beautiful boy Kobi ! Always with me wherever I go ❤️ He is a gentle soul and brings a calmness and peacefulness to me. He helps me every day 😊
Ruby -smart, calm, loving
Ruby is 11 years old and has always been calm for a small dog. Loving and just wants to be held. She was the runt of the bunch and has not grown much since. But her heart is big.
Dude at 10months
Dude at 10 months.  Still on training as a service dog but getting there.
The purpose for which is a service dog is to support us in our medical and psychological issues.  We would like to train him as well to be a visiting support dog to elderly homes.
Renny at 3 years, 6 months.
Renny working in Cape May working on healing and "no sniff", in the sand, close to the surf, with many beach distractions, people with children and beach equipment.
Medical Alert Assist
Egypt alerts me when my heart is skipping beats and calms me when I'm in pain. She must stay with her owner, Lela Cozby, at all times.
Our Beautiful Baby Girl Caution
She know me when I'm sick she comes and
lay right by me. When we come home she greets us by jumping on us to give us a hug. She love dancing also