A Louisiana Best Western hotel that rejected a family with a service dog may get permanently terminated from the brand it represents.
Beau Vaughn has a rare type of epilepsy that requires him to always be accompanied by his assistance dog, Chip, who can sense when the boy is about to have a seizure, WAFB reported on Tuesday. While the Vaughns are not required to alert a hotel when they are coming with the service animal, Beau's mom, Karen, always does, just to be considerate.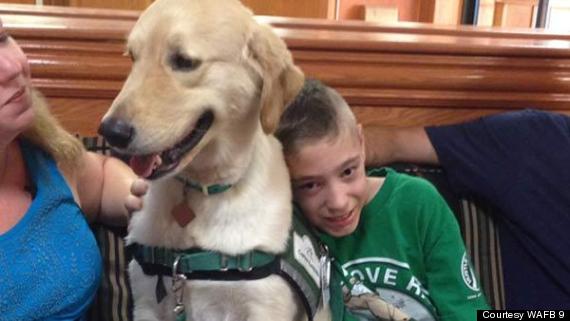 But instead of getting an OK from the Baton Rouge establishment that is required by the Americans With Disabilities Act (ADA), the North Carolina mom got an email saying that their reservation had been canceled because the hotel isn't "pet friendly."
After WAFB reported the disheartening situation, the story went viral, leading advocates to call and complain and even threaten to riot.
The owner of the local Best Western told WAFB that it had made a "mistake," but the corporate office didn't take the situation lightly.
On Thursday, the news outlet reported that the corporate office decided to restrict the hotel from using the Best Western name and the hotel's future association with the brand is still being determined.
"We provide extensive training to ensure our hotels understand and address the needs of guests with special needs," the company said in a statement. "We deeply regret the matter and we will continue to proactively communicate ADA requirements and training to Best Western branded hotels to ensure all guests are treated with the utmost dignity and respect."
This case is particularly concerning considering how critical of a role such dogs play in the lives of people who live with conditions similar to Beau's.
Brianna Lynch also has epilepsy and has frequent seizures. She sometimes even forgets to breathe, which can send her into an episode.
While her family is vigilant about watching over their little girl, they've had to also elicit the help of Charlie, a Great Dane, who can detect when Brianna is about to have a seizure.
"Charlie is so sensitive to her needs — if the other dogs get boisterous, he will stand by her side to ensure she doesn't get knocked over," the girl's mom, Arabella Scanlan, told the Irish Times. "We know, when he is acting strange, she is going to have a seizure."